The installation of gates and side panels give your property additional security.

Gates are fitted with suitable hinges which will vary based on the type and weight of the gate. The latch and bolt is also provided so all you will need to add is the padlock.

There is a wide range of gates available - See various examples below:

Frances of Cromford asked us to make bespoke driveway gates (15ft wide) as well as a 4ft wide side gate so that she could securely store her caravan.

The fully framed closeboard gated were very heavy so we included sprung wheels.

Before: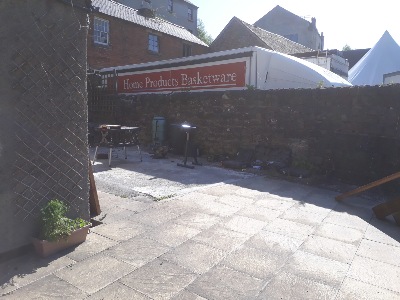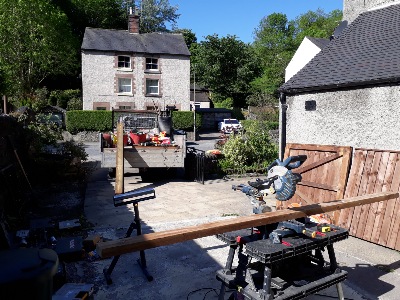 After: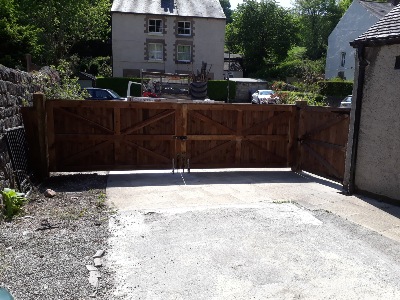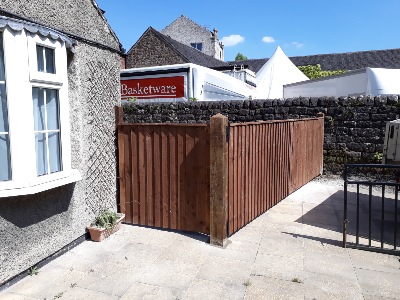 Mrs Haynes of Allestree asked us to install a new 6ft 6inch tongue & groove gate and side panel for additional security at her child-minding business :

Before/after: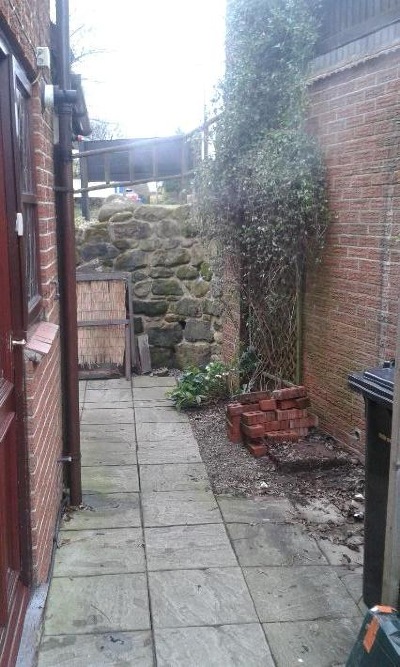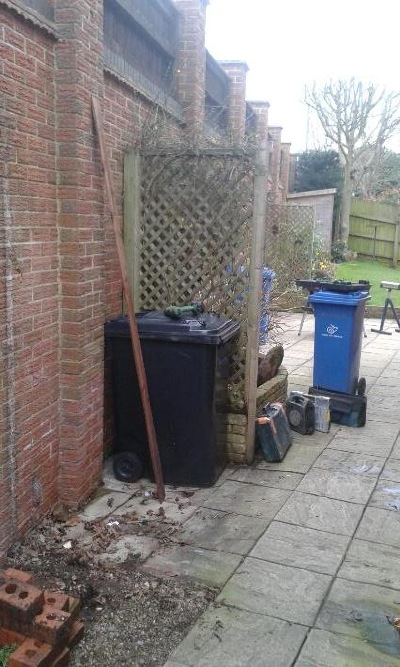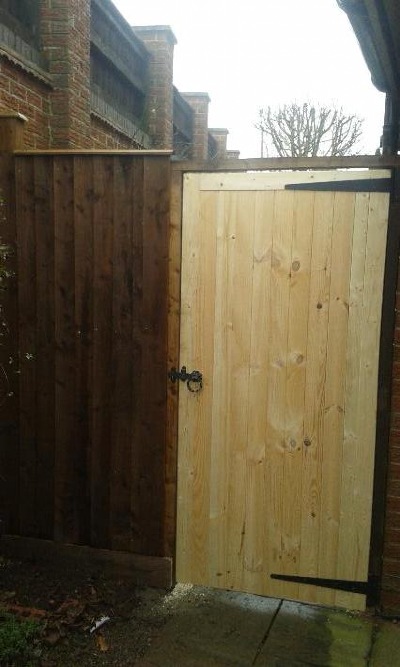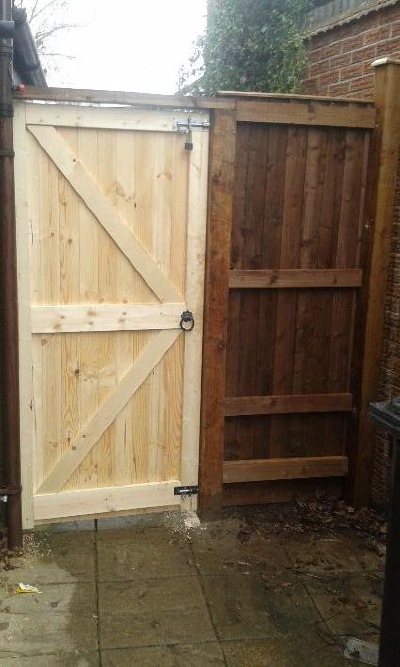 Maria of Chellaston asked us to remove her existing wrought iron gates and install bespoke closeboard gates. This made the area very private and secure.

We also replaced the existing fence which was in poor condition.

Before: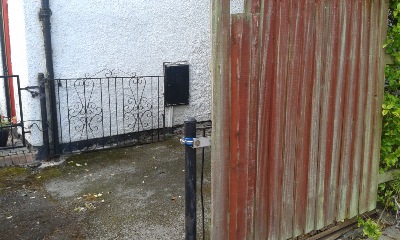 After: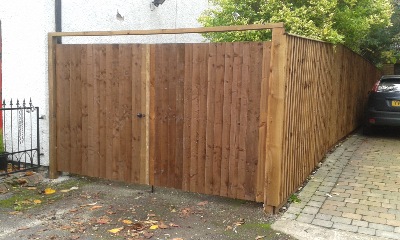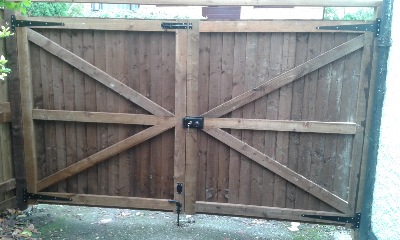 Peter of Allestree asked us to make him some replacement tongue and groove gates. The gates were quite heavy so we included a heavy-duty wheel to reduce the pressure on the post.

Before: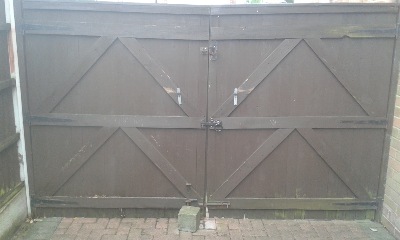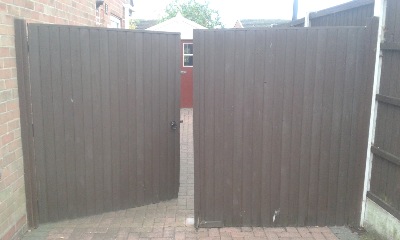 After: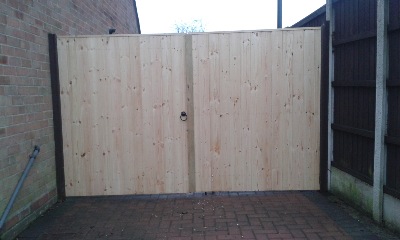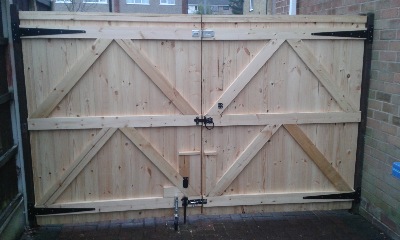 Mrs Maunder of Darley Abbey had a 12ft and 4ft ranch gates fitted.

Before/after: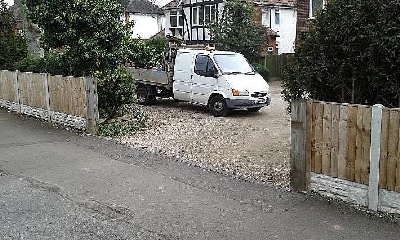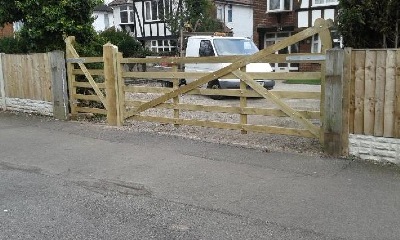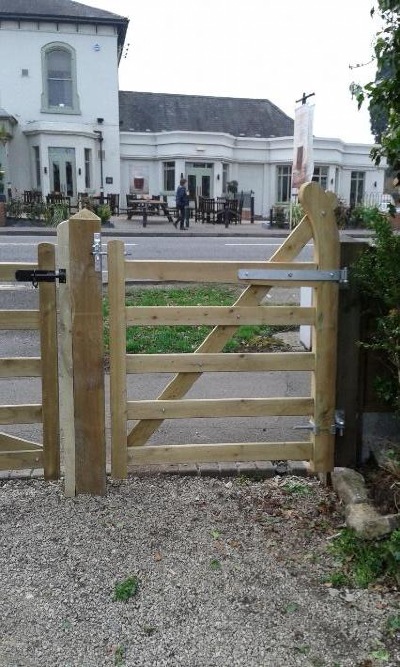 Mrs parker of Mickleover had three gates fitted.

After: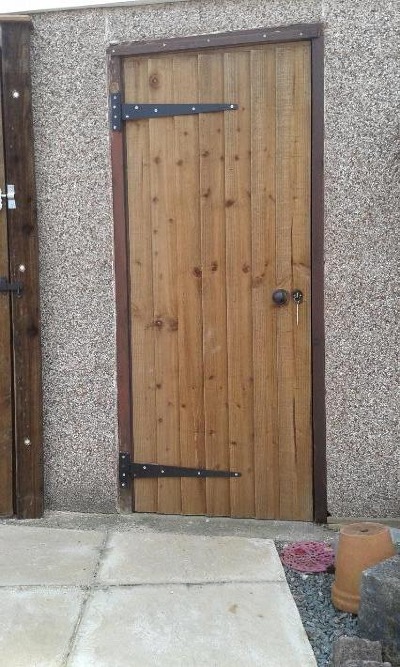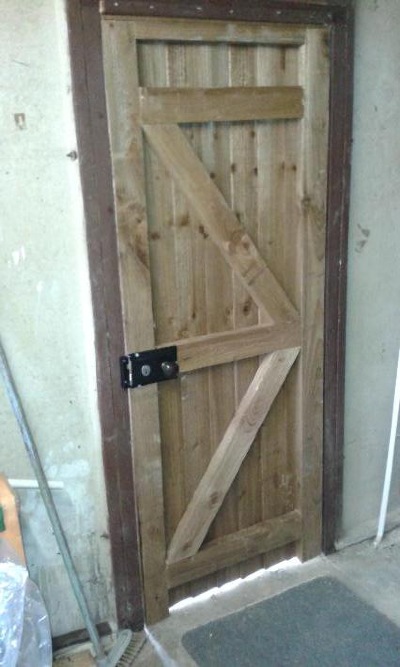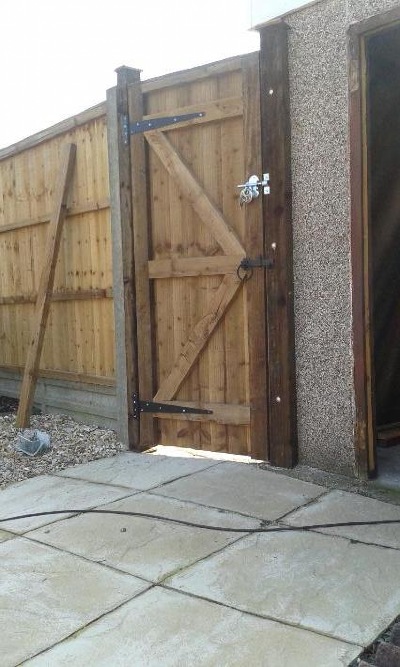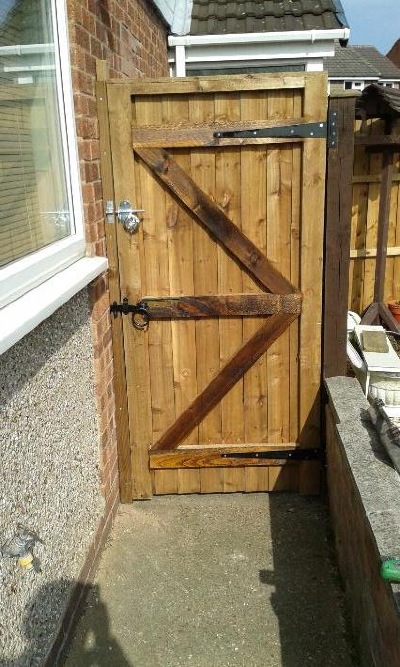 Mr Halstead of Allestree asked us to fit double driveway gate at his bungalow in Allestree:

Before and after: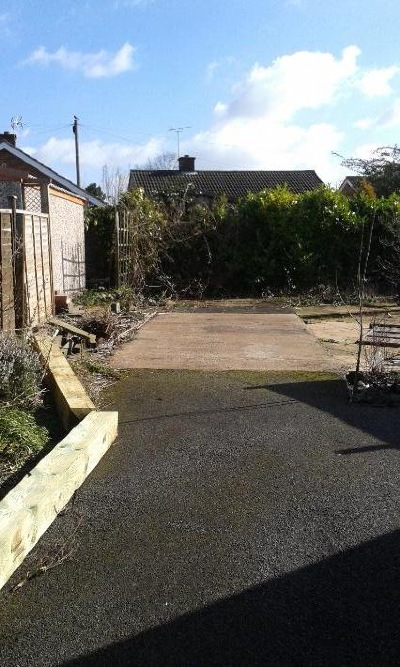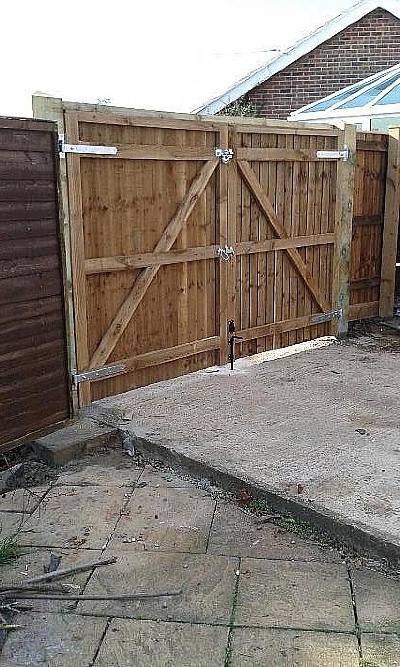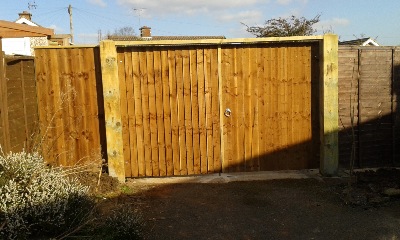 Mr Wood of Duffield wanted to secure his back garden in preparation for a new family pet. He chose a tongue and groove gate with a lock and handle that could be opened from both sides. Mr Wood also had a couple of repair posts installed on his existing fence.

Front view: Rear view: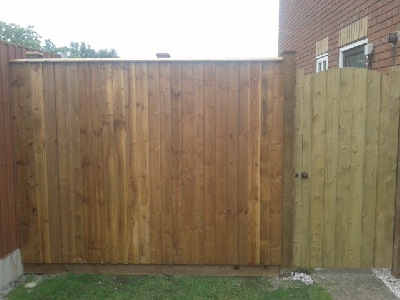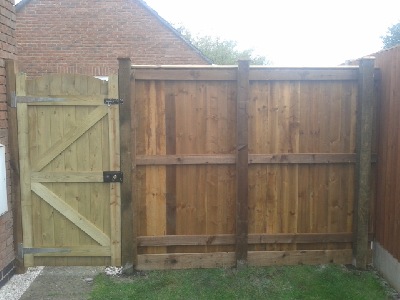 Mr Newsham of Allestree had these flat-top tongue and groove gates installed.

Before: After: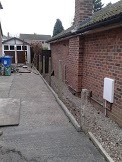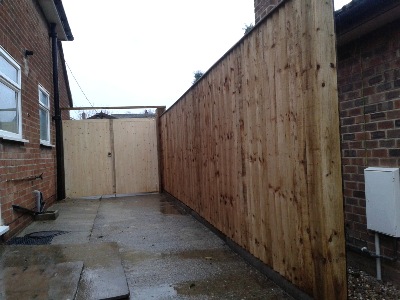 Mr & Mrs Bramley had an open entrance to the rear garden in Belper, Derbyshire and wanted to increase security.

They asked us to install a fully framed, dome-top gate and side panel with a lock that could be opened from both sides.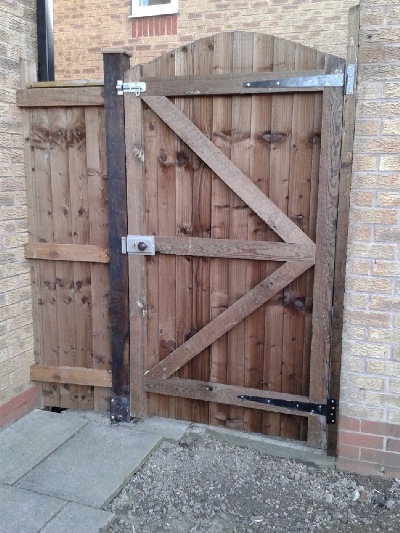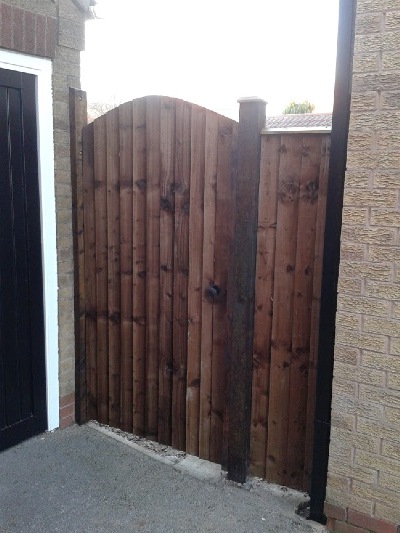 Mrs Allen of Derby asked us to install a patio, fencing, garden structure and double gates at the rear of her garden. A traditional lock and handle was incorporated so the gate could be opened from both sides.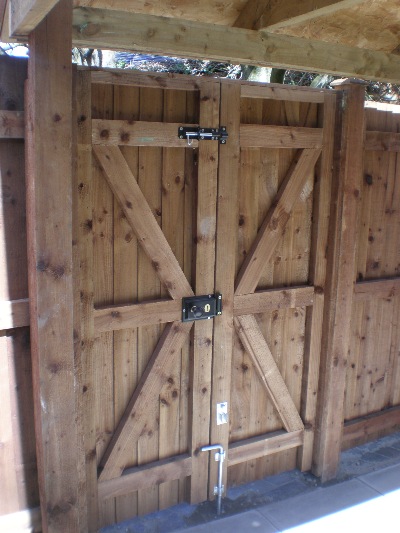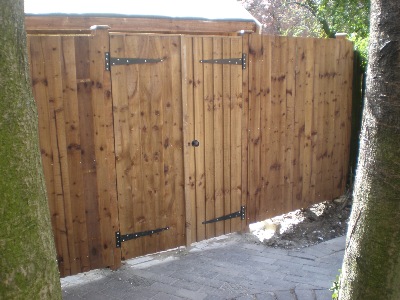 Mr Hewitt had a new fence and two gates installed.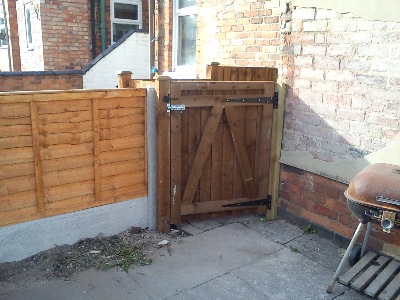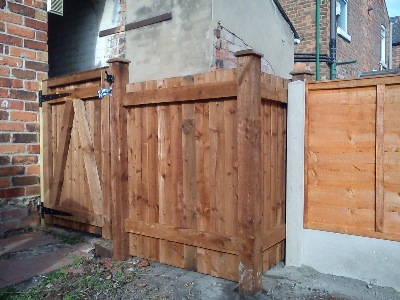 Below - Mr Singh of Duffield asked us to replace a side gate and 8ft driveway gates.

Before:

After (front): After (rear view)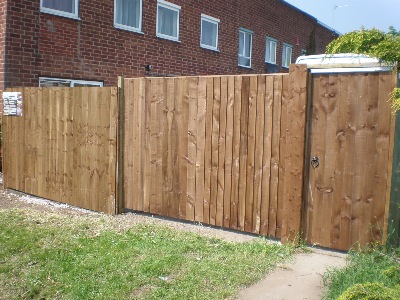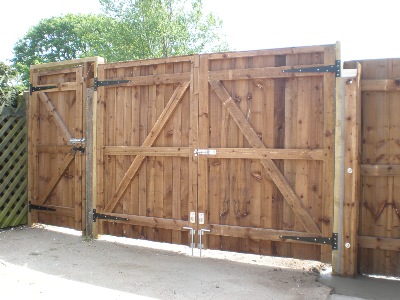 Below - Mr & Mrs Pilkington of Castle Donnington had this 12ft ranch gate installed with a new 8-foot 8x8 fence post.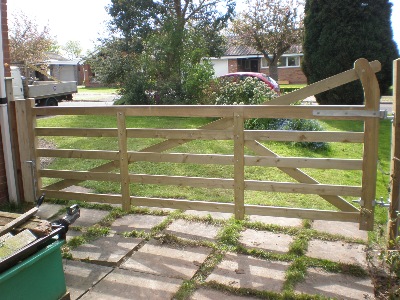 Mrs and Mrs O'Connell of Allestree were delighted with the new dome-top gate and two side panels.

Rear view - Front view -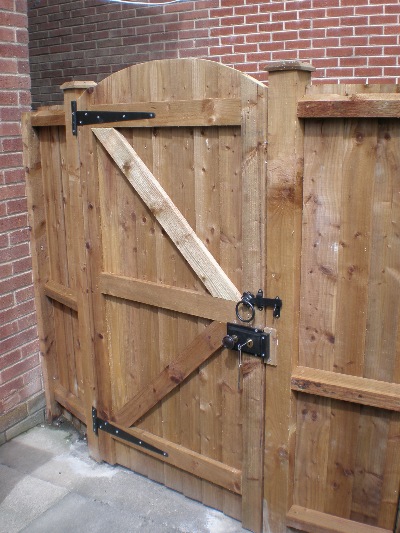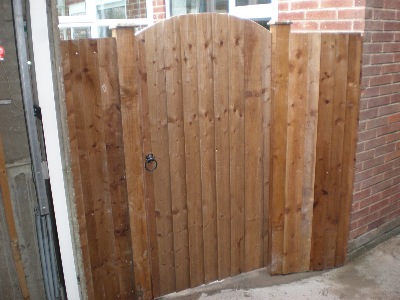 Ms Mundy of Alvaston had an extra wide 48 inch gate fitted as well as a side panel. A yale-type lock was also installed as well as new latch, hinges and bolt.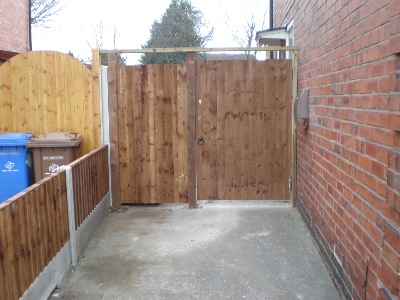 Mr & Mrs Scott of Mickleover had this 41.5 inch gate fitted with the addition of a yale type lock.

Front view: Rear view: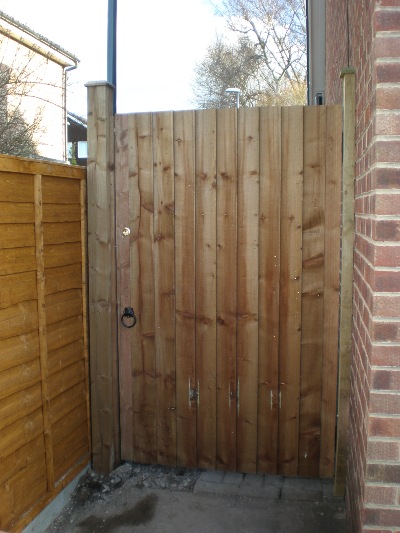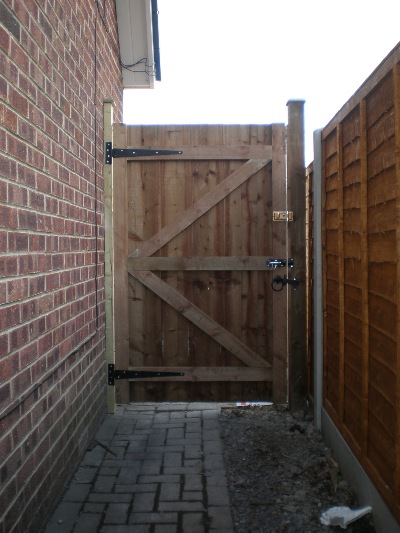 Fully framed framed closeboard gate: Rear view: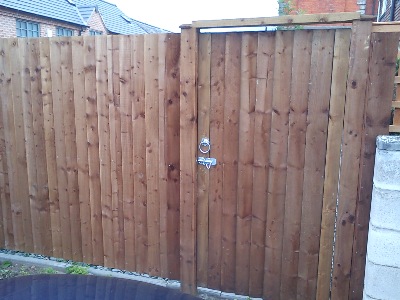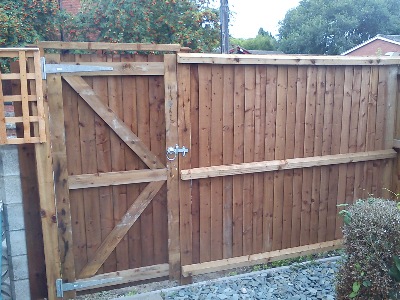 Tongue and groove gate with featherboard side panel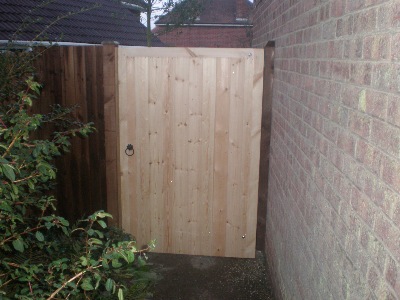 Reverse side of installation:-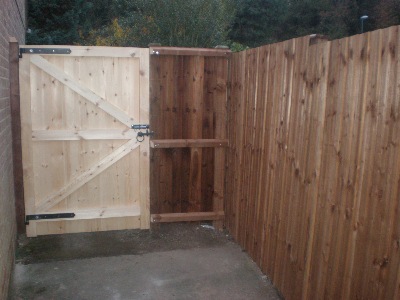 Gates available include closeboard, framed closeboard and tongue and groove which is the most expensive option but you will see from the first image there is a substantial difference. This is of course dependant on the result that you wish to achieve in the context of your own garden.

Closeboard gate Framed closeboard gate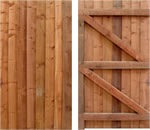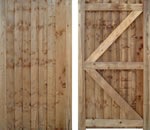 Tongue and groove gate - Picket gate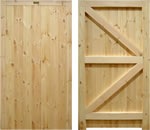 Copyright © 2016 - Abbey Decking Systems & Fencing Services